Telling Human Stories With Time-Layered Cultural Map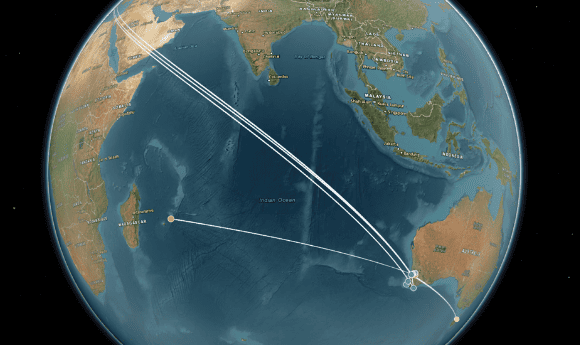 Visualising British Colonisers' Journeys to Australia.
For the full article and TLCMap, please see the Australian Research Data Commons website.
The Western Australian Legacies of British Slavery project is reconstructing the journeys of British colonisers with connections to slavery (James Walcott, Charles Dawson Ridley, Frances Louisa Bussell and Adam Wallace Elmslie) using Time-Layered Cultural Map (TLCMap) an ARDC-supported suite of no-code or low-code digital mapping tools.
Drawing on WALBS's biographical research, Professor Paul Arthur and research associate Isobel Smith from Edith Cowan University have begun plotting and timestamping each stop made by these colonists on their respective journeys to Western Australia, with annotations explaining their connections to slavery and their activities in each location.
"We originally set out to develop our own visualisation tools that would help reveal aspects of this hidden history," said Prof Arthur. "TLCMap is now fulfilling the need for spatio-temporal mapping at the national scale for researchers across disciplines."
Original article published by the Australian Research Data Commons on https://ardc.edu.au/case-study/telling-human-stories-with-time-layered-cultural-map/