Western Australian Legacies of British Slavery explores links between slavery in the British Empire and settler colonialism by tracing the movement of capital, people and culture from slave-owning Britain to Western Australia (WA).
This project examines the importance of the legacy of British slavery for the colonisation of Western Australia, and the reasons why this history has been overlooked. In August 1833 British Parliament abolished slavery in the British Caribbean, Mauritius and the Cape when it passed the 'Act for the abolition of slavery throughout the British Colonies, for promoting the industry of manumitted slaves, and for compensating the persons hitherto entitled to the services of such slaves.' While this momentous event has continued to be celebrated, it is often forgotten that many of those who benefited from slavery had ties to other parts of the British Empire, including the settler colonies of Australia, Canada and South Africa.
Our team aims to trace the movement of people, goods, capital, and practices from the Caribbean to the newly-established colony of Western Australia. We are working in collaboration with the National Centre of Biography, the Australian National Maritime Museum (ANMM), and the Centre for the Study of the Legacies of British Slave-ownership at University College London. The project will research Western Australian colonists and their networks, contributing to the Australian Dictionary of Biography, the People Australia database, and an exhibition at the ANMM.
It is funded by the Australian Research Council (ARC DP200100094).
– State Library of Western Australia, Northbridge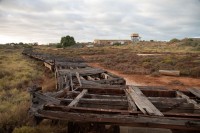 Friday 1 - Saturday 2 December 2023
Read more

Across Tuesday 29 November and Wednesday 30 November 2022, this symposium explored the connections between colonisation and slavery.
Read more